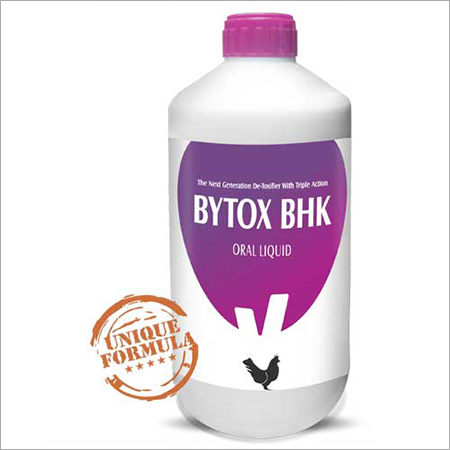 Price And Quantity
100 , , Kilograms

500.00 - 1000.00 INR/Kilograms
Product Specifications
Aurvedic Supplements

Powder

Calcium
Trade Information
500 , , Kilograms Per Week

1 Week
Product Description
Bytox BHK
Composition
TriCholine Citrate

L-Carnitine

Betaine HCL

DL-Methionine

Magnesium Sulpahte

Sorbitol

Protein Hydrolysate

Vitamin B12

Inositol

Sodium Selenite

Natural Bioflavonoids and Polyphenols
Silymarin
Artichoke
Quercetin
Description: BYTOX BHK has proved to be of significant values in optimizing and regulating the functions of Liver, Kidney and Blood in the birds. BYTOX BHK is a unique, synergistic combination of various chemicals and phytogenic derivarives classified under the category of blood purifier, kidney flusher, liver detoxifier and immune stimulator. It improves poultry performance by targeting four major problems - Hepatotoxicity, Nephrotoxicity, Hematopoetic Toxicity and Immunosuppression.
Trial References
Trial 1 - BOMBAY VETERINARY COLLE: It was observed that the birds receiving BYTOX BHK @ 1 ml/10 birds recorded 33.55 % higher profit per bird and 24.16 % higher profit per kg respectively as compared to the birds from control group. BYTOX BHK improved livability, weight gain and FCR. Therefore, it may be concluded that, the use of BYTOX BHK @ 1 ml/ 10 birds is beneficial to improve the performance and profits from the broilers.
Trial 2 - AGRIVET CONSULTANCY PVT. LTD.: It was observed that FCR, Livability, Production Efficiecy Factor (PEF) were improved when BYTOX BHK was given for 1-42 days. Serum Uric acid level (P < 0.05)was decreased when BYTOX BHK was supplemented in drinking water either periodically or continuously. It was also observed that the birds receiving Bytox BHK 1-42 days returned more profits than the control group.
Trial 3 - ANNAM FEEDS R&D TRIAL FARM: Study on the Efficacy of Bytox BHK as a Performance Enhancer was carried out at Research and Development Trial Farm of Annam Feeds Namakkal. The FCR was lower in the BYTOX BHK group at all ages.
Indications: Improve Performance, Hepatotoxicity, Nephrotoxicity, Hematopoietic toxicity, Immunosuppression
Benefits

Bytox BHK is an ideal hepato-protective & hepato-regenerative liver conditioner.
Bytox BHK help in purification of blood, helps to maintain the health of all the organs of the body, resulting into better growth & performance.
Bytox BHK helps to activate the kidney and help to reduce the incidence of GOUT condition in birds.
Bytox BHK helps to heal and repair the kidneys' tissues damaged due to infections, bacterial, fungal and chemical toxins.
Bytox BHK has anti-inflammatory property, which helps to reduce the inflammation of the kidneys during Nephritis.
Bytox BHK helps to protect the birds from various disorders, maintain their health, and improve livability.
Bytox BHK improves the digestion, absorption and assimilation of nutrients, which results in better FCR, growth & productivity.
Recommendation:
Poultry - IN DRINKING WATER
Prevention –
| | |
| --- | --- |
| Broilers: | 10 ml / 100 birds for 2-3 days in a week |
| Layers: | Chicks: 10 ml / 100 birds for first 3 days in a week |
| | Growers: 10 ml / 100 birds for 2 days in a week |
| | Layers: 10 ml / 100 birds for 1-2 days in a week |
| Breeders: | 20 ml / 100 birds 3 days in a week |
| During disease condition - | |
| Layers/ Broilers: | 10 ml / 100 birds twice daily for 5 consecutive days |
| Breeders: | 15-20 ml / 100 birds twice daily for 5 consecutive days |
| Pigs: | 1 L/ 1000 -2000 L of drinking water |
| Cattle and Horses: | 1 ml /5 - 10 kg of body weight for 5 - 7 days. |
| Sheep, Goats, Camelids: | 1 ml /2.5 - 5 kg of body weight for 5 - 7 days. |
OR As recommended by the nutritionist
Other Products in 'Nutritionals' category
Get in touch with us