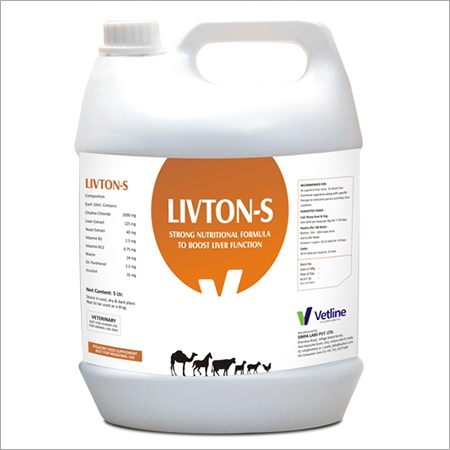 Price And Quantity
500.00 - 1000.00 INR/Kilograms

100 ,
Product Specifications
Powder

Calcium

Aurvedic Supplements
Product Description
LIVTON-S
Composition: Choline Chloride, Liver Extract, Yeast Extract, Vitamin B1 , Vitamin B12, Niacin, DL-Panthenol, Inositol
Description

Liver is a vital organ involved in metabolism, storage, secretion, detoxification and protection. Being the central organ of metabolism, liver is always subjected to damages of various kinds. Liver stimulants and protectants are usually supplemented to support liver in detoxification and to improve the structural and functional integrity of liver cells.
LIVTON S contains all the essential nutrients formulated to protect, maintain and stimulate liver to perform various functions and to optimize production.
Indications

As a general liver tonic.
To boost liver function.
As a nutritional supportive along with specific therapy to overcome serosis and fatty liver condition.
To minimise & prevent liver damage.

Benefits

Prevention of liver damage from mycotoxins & avoid perosis.
Minimised liver damage due to pathogens like bacteria, virus, fungi & to overcome hypertrophy of liver.
Increased liver secretions for better digestion and boost liver function.
Faster recovery from stress & diseases of all types.
Enhanced flock immunity,Improved Growth, FCR, Fertility & Hatchability.

Usage

Broilers : 5-10 ml daily per 100 birds through drinking water from 2nd to 6th week.
Growers / Layers : 20 ml per 100 birds through drinking water as a week a month programme.
Cattle : 20 ml. daily per head for 10 days.
Calf, Sheep, Goat & Dog: 5 ml.- 10 ml. per head per day for 7 days.
In case of acute liver damage the dose should be doubled
Product details
| | |
| --- | --- |
| Choline Chloride(Each 10 Ml) | 2000 mg |
| Brand | Vetline |
| Pack Size | 5 litre |
| Packaging Type | Gallon |
| Yeast Extract(Each 10 Ml) | 40 mg |
| Vitamin B12(Each 10 Ml) | 0.75 mcg |
| Vitamin B1(Each 10 Ml) | 2.5 mg |
Other Products in 'Nutritionals' category
Get in touch with us