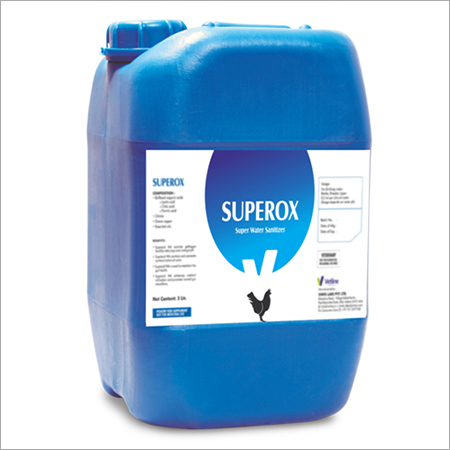 Price And Quantity
500.00 - 1000.00 INR/Kilograms

100 , , Kilograms
Product Specifications
Calcium

Aurvedic Supplements

Powder
Trade Information
500 , , Kilograms Per Week

1 Week
Product Description
SUPEROX
Composition: Toxel Pro contains Double Layer HSCAS (polar mycotoxins), Triple Layer HSCAS (non-polar mycotoxins), Antioxidants, Yeast Cell Walls

Description: Toxel Pro is a synergistic blend of specifically selected mycotoxin binders. Toxel Pro contains multi-layered modified minerals, yeast sources and anti-oxidants, which inactivate, adsorb and bind both polar and non-polar mycotoxins (Aflatoxin (AFL), Ochratoxin (OTA), T-2 Toxin, Fuminosin B2 and Zearalenone (ZEN)) at maximum. The modified minerals are registered by EFSA for the reduction of the contamination of feed by mycotoxins (category-1, functional group m, EU No. 1060/2013).

Composition: SUPEROX is a blend of Peracetic Acid, Hydrogen Peroxide, Acetic Acid and surfactant in a stabilized aqueous solution.

Description

Water can be referred to as the forgotten nutrient in poultry. The quality of water has serious bearing on the productivity and health of poultry birds. Water should be free of pathogenic microorganisms and toxic levels of minerals and chemicals.
There is a direct relationship between feed and water consumption. Broilers consume approximately 1.6 to 2.0 times as much water on a weight basis as feed.
Improved water quality increases water and feed intake thereby improving the overall performance.
Mode of Action: Peracetic acid present in Superox when comes in contact with micro-organisms, disrupts the function of the cell membrane and causes rupturing of the cell wall. It oxidizes the Sulphur bonds in proteins, enzymes and other metabolites, leading to sporicidal activity.

Indications: A powerful broadspectrum Water Sanitizer providing most effective treatment for drinking water and drinking water systems, helps the farmers to improve the quality of poultry drinking water.

Benefits

ovidSafe & most powerful sanitizer at reasonable cost.
Pres broad spectrum biocidal activity & is effective in presence of bacteria, fungi, virus & spores.
Unique combination of chemical germicides.
Effective in presence of organic matter and at low temperature.
Completely biodegradable and decomposes to water oxygen and carbon dioxide
Continuous use results in a tremendous & drastic decline in medication cost.
Important part of total farm BIOSECURITY

Dosage :

General sanitization or preventio: 5 - 10 ml. in 100 Lit of drinking water
In acute cases: 15 - 20 ml. in 100 Lit of drinking water
In severe cases: 40 - 50 ml. in 100 Lit of drinking water for 2-3 days


Benefits

Broad Spectrum binding of the mycotoxins present in the feed i.e. Maximum Protection.
Selective binding to mycotoxins leads to no Vitamin or Amino Acid Chelation.
Formation of irreversible complexes with mycotoxin that will be excreted from the body.
Helps in maintaining the immune status of the birds in mycotoxin affected birds.
The essential nutrients availability will be maintaines.
Improves the overall performance of the birds.
No residual effects or Withdrawal Period.

Inclusion Levels:

Prevention/ Low Risk Feed : 0.5-1 Kg / ton of feed
Therapeautic/ High Risk Feed : Up to 2.5 Kg / ton of feed
OR As suggested by the Nutritionist
Get in touch with us